Fax:+86 371-67993277
Tel: +86 371-67991755
Sales direct: +86 15838331071
E-mail:sales@battemachinery.com
http://www.screen-changer.org
24h services
Four screen cavities screen changer
Four screen cavities screen changer has four independent filter blocks, and operates without additional seals. This type four station screen changer also called four blocks filter.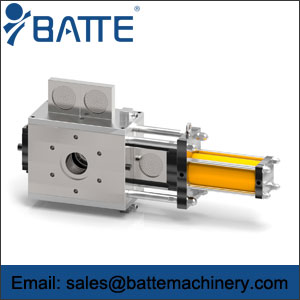 Four screen cavities screen changer features, advantages, applications, and technical design:
It consists of filter body and four separate filter blocks. Filter blocks work by turns.
Small fluctuation of pressure in process can keep production continuous and stable.
With filter plate preheat and exhaust, it can keep pressure, flow and temperature stable. It is especially for high transparency and precision products.
It can change filter plate with no leakage, no damage film, no break thread, no stop.
Filter plates move in one-way, work independently, easy to clean.
It can be used for granulation, pipe, plate, sheet, EPE, EPS pearl wool, xps extruded sheet, PVB bursting disk, space plate, squeeze net, BOPET/BOPP, chemical fibers. In PE, PP, drawbench, PEP, EPS production lines, the effect is stable and remarkable. Improved products can meet drawbench of PET and other polyester products.
this type of screen changer for granulation, pipe, sheet, plate, PVB explosion-proof membrane production line, especially has obvious effect in the PET and PP drawing, spinning, EPE, EPS, XPS foam production. Other c
ontinuous screen changer also can be provided.
Four blocks filter principle of operation:
The below of drawing shows the basic function and specification of the single plate type four working station hydraulic screen changer. The four pieces of square shape filter plate are placed between inlet and outlet. The hydraulic station will supply the necessary power to push each screen move to the working station with proper movement. The stainless filter holes will smoothly move into the flow channel without causing much fluctuation and meantime realize self-cleaning function.
Four screen cavities plate screen changer specifications:
Type

Output

Kg/h

Size (mm)

Screen size

Heating tube

L1

L2

L3

L4

Ф(mm)

cm2

V

KW
Four screen cavities screen changer Characteristics:
The exchanger body and four independent filter blocks, the filter block in turn work, work pressure, good sealing performance, wear resistance, long service life. A filter block preheating station and exhaust structure. When changing the net net net new gas can keep changing the net pressure balance, completely solve the "bubble" of the problem. The location is also block the exhaust preheat position, can guarantee to change the network and the network is changing the temperature consistent, to avoid the new block because of the low temperature crystallization and melt fluidity and even crystal.
Relative Articles:
◆Backflush screen changer
◆Single piston screen changer
◆Double piston screen changer with four screen cavities
◆Double plate fast screen changer with 2 cavities
◆Single slide plate screen changer
◆Double plate screen changer with two screen cavities
◆Manual screen changers
◆Double piston screen changers with two cavities
◆Automatic continuous belt screen changer
©2015 Batte Mechanical Zhengzhou Co,.Ltd. All rights reserved. 
sales@battemachinery.com
Batte is a professional
screen changer manufacturer
, supplying
screen changer
, especially
screen changer for extrusion mould
.