Fax:+86 371-67993277
Tel: +86 371-67991755
Sales direct: +86 15838331071
E-mail:sales@battemachinery.com
http://www.screen-changer.org
24h services
Double plate fast screen changer
Double plate fast screen changer also called double plate double station fast screen changer is a kind of 2 cavities screen changers, and the screen replacement is very short and no need shut down the working machine.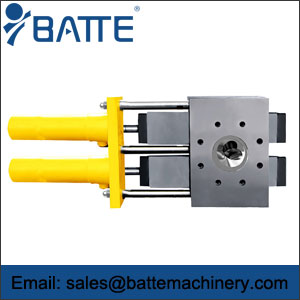 Double plate fast screen changer

Features:
Double plate double station fast screen changer
for dual network applications at the same time, changing the net a net work, replacement of a network without interrupting the material flow, can achieve non-stop screen changing. Two filter units work simultaneously, the filter area is two times of the single net. Extrusion production requirements for all polymers. The process of changing the net is discontinuous, and the output of the extruder will not cause the obvious fluctuation, and the stability of the product quality is improved.. Screen changer can withstand higher melt pressure. The reliable sealing structure improves the sealing effect..
Double plate fast screen changer
Application:
These 2 cavities screen changers
for automatic compensation seal clearance, high pressure, high temperature, no leakage, filter area, high output equipment. When the net is not down, can increase the output, save energy consumption. Easy to change network, easy operation and maintenance. Screen changers Widely used in the extrusion production line of granulation, pipe, plate, sheet, cast film, etc..

Relative Articles:
◆Backflush screen changer
◆Single piston screen changer
◆Double piston screen changer with four screen cavities
◆Single slide plate screen changer
◆Double plate screen changer with two screen cavities
◆Manual screen changers
◆Double piston screen changers with two cavities
◆Four screen cavities screen changer
◆Automatic continuous belt screen changer
©2015 Batte Mechanical Zhengzhou Co,.Ltd. All rights reserved. 
sales@battemachinery.com
Batte is a professional
screen changer manufacturer
, supplying
screen changer
, especially
screen changer for extrusion mould
.