Fax:+86 371-67993277
Tel: +86 371-67991755
Sales direct: +86 15838331071
E-mail:sales@battemachinery.com
http://www.screen-changer.org
24h services
batte double plate screen changer
We provide single-plate, double-plate, single-column, double-column screen changer . Changing the screen hydraulically for easy production and maintenance.
The filtering channels of double-plate four-position unit may work alternately, contributing to quick screen change-over , easy production and simple maintenance.
Come with built-in sealing device to ensure sound tightness and allow for mass production of any polymers, capable of being coupled with extruders of various specifications.
The screen change-over duration for the double-position quick screen changer ≤1 second. The filter area is optional from Φ30 to Φ250mm.
Come with grinding-resistant, pressure-resistant and high precision filter to ensure maximized filtering area and optimized filtering results.
Its performance will not be compromised when the pressure is kept between 25—30Mpa and temperature around 300°C
Nearly all the polymers are fit for screen changer, such as PC, PMMA, PET, PS, PU, PP, PE, EVA, ABS, etc.
Application:1.Non-woven.2.Granulation.3.Pipe.4.Plate.5.Sheet.6.Cast film.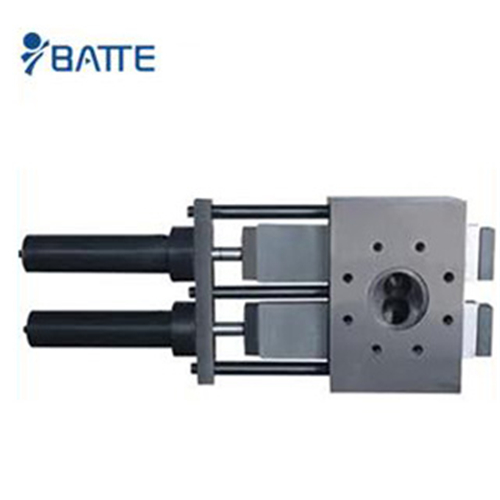 Performance characteristic:
1. The screen changer works simultaneously: when one net works, the other one replaced.
2. Exhaust system device can fully defuse the gas mixed in the materials and improve the product quality.
3. Double channels expand the filtration area to produce more high-quality production which meet the customers' need.
4. Apply to extrusion production in a wide range of materials and product.
5. Good sealing system ensures perfect sealing effect.
6. The function of filling material exhaust and pollution discharge guarantee the process of replacing screen continuously.
7. We design and manufacture production of various sizes according to the customers' requirement.
8. A well-designed structure makes operation more convenient .
Commissioning
At the requirement of user, salers should send technician to install and commissioning the die at site of Buyers, expenses of the trip should be borne by Buyers.
After-sales service
12 months with proper operation by user, all the spare parts shall be replaced free of charge under guarantee period, fee for transportation and packing will be borne by users.
double plate screen changer
Double column double working station hydraulic screen changer specifications:
Type

Output

Kg/h

Size (mm)

Screen size

Heating tube

L1

L2

L3

Ф(mm)

cm2

Quantity

V

KW
Type

Output

Kg/h

Size (mm)

Screen size

Heating tube

L1

L2

L3

(mm)L*W

cm2

Quantity

V

KW
next:
©2015 Batte Mechanical Zhengzhou Co,.Ltd. All rights reserved. 
sales@battemachinery.com
Batte is a professional
screen changer manufacturer
, supplying
screen changer
, especially
screen changer for extrusion mould
.