Fax:+86 371-67993277
Tel: +86 371-67991755
Sales direct: +86 15838331071
E-mail:sales@battemachinery.com
http://www.screen-changer.org
24h services
Manual control screen changer
Manual screen changer provides a cost effective filtration solution for the polymer extrusion industry. Manual screen changers (manual control screen changer) can filter contamination which affects the quality of the product.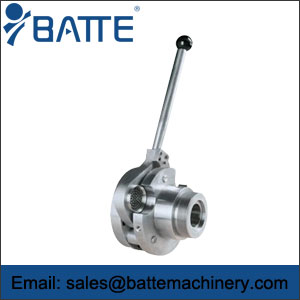 Manual screen changer application and features:
Easier installation and easier operation.
The operation handle can be adjusted according to the workshop position.
With its unique rigid material or compensation sealing design, the service life is long.
The position is precise during screen changing.
It is applicable for 90 mm extruder or less than 90 mm extruder plant
Less occupied space and easy to operate.
Extrusion production line adopted this type screen changer is applicable to all kinds of high viscosity melt.
The manual screen changer, as the name suggests is the direct manual switch net changing device. The manual screen changers have small volume, low cost and other advantages, but its shortcomings are obvious: changing the net speed is slow, the general need for machine network, due to friction and sealing performance considering the filter diameter generally less than 100mm.
Manual control screen changers specifications:
Type

Output

Kg/h

Size (mm)

Screen size

Heating tube

L1

L2

Ф(mm)

cm2

V

W

Relative Articles:
◆Backflush screen changer
◆Single piston screen changer
◆Double piston screen changer with four screen cavities
◆Double plate fast screen changer with 2 cavities
◆Single slide plate screen changer
◆Double plate screen changer with two screen cavities
◆Double piston screen changers with two cavities
◆Four screen cavities screen changer
◆Automatic continuous belt screen changer
©2015 Batte Mechanical Zhengzhou Co,.Ltd. All rights reserved. 
sales@battemachinery.com
Batte is a professional
screen changer manufacturer
, supplying
screen changer
, especially
screen changer for extrusion mould
.