Fax:+86 371-67993277
Tel: +86 371-67991755
Sales direct: +86 15838331071
E-mail:sales@battemachinery.com
http://www.screen-changer.org
24h services
Double piston screen changer with four screen cavities
Double piston screen changer with four screen cavities
is
two working position screen changer
with four channels and four filters.
Double column large capacity screen changer
is the special type, and can reduce the frequency of changing the screen.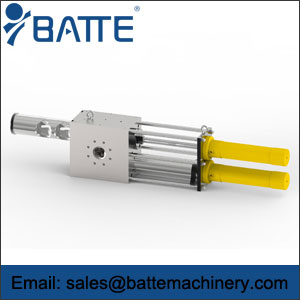 Double piston screen changer with four screen cavities features, advantages, and applications:
The design is four channels and four filters. The four filters are working simultaneously without stopping material flowing or mass production. Thus the non-stop screen changing can be achieved.
The exhaust air system is able to fully discharge the air inside the material or perforated plate which is to be replaced. It can avoid air forming in the product during screen changing, thus improve the product quality.
Four channel design greatly increase filtering area, and meet the higher quality or quantity production demand.
Bigger filtering areas are applicable for different material or extrusion products.
It has better sealing characteristics with rigid sealing. The service life is longer.
It has material filling, air exhausting and impure material discharging function, which guarantees continuous production during screen changing.
It is applicable for high productivity, high efficiency, high quantity and continuous production of large extrusion plant.
It has reasonable structure design, easier operation and better working effect.
We can customize various sizes or standards based on the client's requirement.
It is configured with safety protection cover design.
It is used for chemical fiber, blown film, flat film, cast film, pipe, plate, wire, fiber, granulating, recycling pelletizing, etc.

Double pillar four working piston hydraulic screen changer technical parameter:
Type

Output

Kg/h

Size (mm)

Screen size

Heating tube

L1

L2

L3

Ф(mm)

cm2

Quantity

V

KW
Large capacity screen changers
Characteristics and applications:
The screen changer design for double column filter tube structure, large filtration area, reduce the frequency of changing the net, for increasing the network time interval, which can realize non-stop screen changer. It is designed with a material discharge device, fully exclude material gas, can thoroughly solve the problems when changing the net easy to produce bubble, to ensure product quality, improve product stability.
These
continuous screen changer
products are
suitable for PP, PE, PS, PET and other plastics, especially for drawing and special dirty material recycling granulation and other conditions.
Relative Articles:
◆Backflush screen changer
◆Single piston screen changer
◆Double plate fast screen changer with 2 cavities
◆Single slide plate screen changer
◆Double plate screen changer with two screen cavities
◆Manual screen changers
◆Double piston screen changers with two cavities
◆Four screen cavities screen changer
◆Automatic continuous belt screen changer
©2015 Batte Mechanical Zhengzhou Co,.Ltd. All rights reserved. 
sales@battemachinery.com
Batte is a professional
screen changer manufacturer
, supplying
screen changer
, especially
screen changer for extrusion mould
.