Fax:+86 371-67993277
Tel: +86 371-67991755
Sales direct: +86 15838331071
E-mail:sales@battemachinery.com
http://www.screen-changer.org
24h services
Screen changers with four screen cavities
Screen changers with four screen cavities
consist of four independent breaker plates, each with openings of same diameter and screen pattern. The
four screen cavites screen changer
features, advantages, and applications are as follows.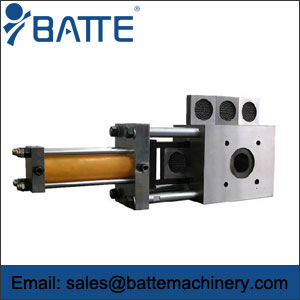 Screen changers with four screen cavities applications:
Blown film and cast film, such as Bubble pack, Medical, Food Wrap
Sheet, such as Foam, Strapping, Plastic cardboard
Coating, for example: Hot melt adhesive
Pipe: Corrugated, Gas Pipe, and profile
Compounding: Master batch, filler
Wire and cable extrusion
Tubing: Medical, Industrial, Irrigation
Fibers: Monofilament
Blow molding
Pelletizing: strands and underwater
Recycling of most polymers
Screen changers with four screen cavities Benefits:
Possible for fine filtration, improve product quality
Enable precise processing for high quality production and reduce waste materials
Continuous operation
No interrupt during production
Reduced downtime & scrap
Reduced inlet pressure at extrusion die
Reduced temperature variations in the melt
Screen changers with four screen cavities Features:
Breaker plates move in the same direction one by one, improved filtration performance, convenient to clean.
Equipped with preheating and ventilation design to minimize the effect of possible temperature, pressure, melt flow fluctuation on polymer during screen changing process.
No rupture on film and filament production and changing the screen without stopping the production.
The rotation of specially treated alloy metal plates gives superior sealing ability and durability.
Screen changers
with four screen cavities have slight flow fluctuation during screen changing. It can guarantee a continuous and stable extrusion production.
©2015 Batte Mechanical Zhengzhou Co,.Ltd. All rights reserved. 
sales@battemachinery.com
Batte is a professional
screen changer manufacturer
, supplying
screen changer
, especially
screen changer for extrusion mould
.