Fax:+86 371-67993277
Tel: +86 371-67991755
Sales direct: +86 15838331071
E-mail:sales@battemachinery.com
http://www.screen-changer.org
24h services
Single-plate hydraulic screen changers
Single-plate hydraulic screen changers
consist of main body, slide plate, heater and hydraulic unit with accumulator. These
screen changers
are widely used for their technology features, outstanding benefits, and other properties.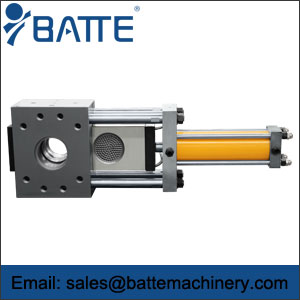 Single-plate hydraulic screen changers features:
Batte patented technology on the sealing system design.
Automatic compensation on sealing gap can be realized during screen changing process.
Compatible with extruders for various polymers processing at high output
Filtration area ranges from ¢30-¢360mm.
With highly precise design, the screen has good abrasive resistant, high pressure performance, ensuring large effective filtration area and improving filtration effect.
Screen changer
works well even under high Temperature up to 300 ℃ and high pressure up to 50 MPa.
Screen changing time ≤ 2 seconds with pressure accumulator.
Single-plate hydraulic screen changers Benefits:
Leak-free process
Minimum pressure drop
Improved products quality
Reduced waste materials
Reduced downtime & scrap
Reduced inlet pressure at extrusion die
Reduced temperature variations in the melt
Single-plate hydraulic screen changers are driven by hydraulic power, and the slide plate carries 2 pieces breaker plates can move linearly in both directions to achieve screen changing in a short time.
©2015 Batte Mechanical Zhengzhou Co,.Ltd. All rights reserved. 
sales@battemachinery.com
Batte is a professional
screen changer manufacturer
, supplying
screen changer
, especially
screen changer for extrusion mould
.