Fax:+86 371-67993277
Tel: +86 371-67991755
Sales direct: +86 15838331071
E-mail:sales@battemachinery.com
http://www.screen-changer.org
24h services
double plate screen changer application
double plate screen changer application
Application of raw materials: PP, PE, ABS, PS and other plastic melts, etc.
features of double plate screen changer
This series of double plate screen changer filters is made up of filter body, heating / cooling system, electronic control system and so on, without external force control. Its control elements can automatically control filtering time and speed.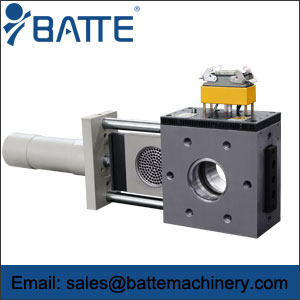 double plate screen changer technology and specifications
1, Zhengzhou batte double plate changer screen changer online automatic filtering processing of plastics, rubber, chemical fiber, melt adhesive, automatically replace the filter, do not stop production, without interruption, time saving, energy saving and increasing production, no waste, small pressure fluctuation of molten material within the system, material flow a steady, high product quality, stable and reliable performance, welcomed by users;
2. This series of filters are composed of the filter body, the heating / cooling series, the electronic control system and so on.
3. Without external force control, the system control element can automatically control the filtering time and the speed of the network.
©2015 Batte Mechanical Zhengzhou Co,.Ltd. All rights reserved. 
sales@battemachinery.com
Batte is a professional
screen changer manufacturer
, supplying
screen changer
, especially
screen changer for extrusion mould
.