Fax:+86 371-67993277
Tel: +86 371-67991755
Sales direct: +86 15838331071
E-mail:sales@battemachinery.com
http://www.screen-changer.org
24h services
show double piston continuous screen changer with double working positions
Do you want to show double piston continuous screen changer with double working positions or other products of your own company?
Cylindrical screen changer equipped with the pressure regulator mechanism , made of high-performance steel and special metal processing and heat treatment, with two-filter channel alternately working for quick screen changing, easy operation and maintenance.
△ with highly precise design, abrasive resistant, High pressure performance
△Works well even under temperature up to 400℃ and pressure up to 40MPa-50MPa.
△Stable and continuous screen changing process , with automatic alarm, automatic pressure release
△Nonstop screen changing, leakage free design. Automatic air-free design.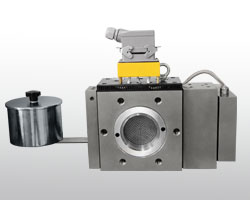 screen changer, single plate screen changer, quick screen changer, hydraulic screen changer The plate has two filter screen cavities ,one of them work with the plastic machine.The screen changers are designed for double column filter tube structure, large filtration area.
©2015 Batte Mechanical Zhengzhou Co,.Ltd. All rights reserved. 
sales@battemachinery.com
Batte is a professional
screen changer manufacturer
, supplying
screen changer
, especially
screen changer for extrusion mould
.