Fax:+86 371-67993277
Tel: +86 371-67991755
Sales direct: +86 15838331071
E-mail:sales@battemachinery.com
http://www.screen-changer.org
24h services
Large Filtration Surface Screen Changer
Large Filtration Surface Screen Changer
consists of two drum type filters with large-area filtration, so it also called drum filter with large filtration surface. The details of features, and applications of these
screen changer
products are as follows.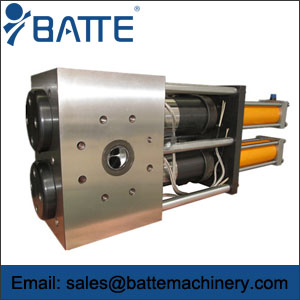 Large Filtration Surface Screen Changer applications:
Blown film and cast film
Sheet
Coating
Pipe and profile
Compounding
Wire and cable extrusion
Tubing
Fibers
Blow molding
Pelletizing
Recycling of most polymers
Large Filtration Surface Screen Changer Features:
Large filtration reduces screen changing frequency, improved production efficiency
Built-in static mixer improves product stability
Superior sealing system completely eliminates polymer leakage.
Large Filtration Surface Screen Changer can ensure continuous production during screen changing.
Continuous screen changer
is designed with pre-fill and air vent mechanism, no air bubbles in final products. This provides constancy and stability during the production process.
©2015 Batte Mechanical Zhengzhou Co,.Ltd. All rights reserved. 
sales@battemachinery.com
Batte is a professional
screen changer manufacturer
, supplying
screen changer
, especially
screen changer for extrusion mould
.