Fax:+86 371-67993277
Tel: +86 371-67991755
Sales direct: +86 15838331071
E-mail:sales@battemachinery.com
http://www.screen-changer.org
24h services
Double-piston continuous screen changer
Double-piston continuous screen changer
realizes a non-stopping screen changing operation by altering two pistons with double filtering areas. The features, benefits, and applications are as follows.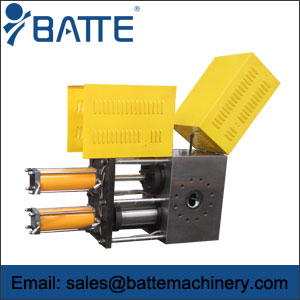 Double-piston continuous screen changer function:
During production, the polymer melt is divided into two flow channels inside the screen changer housing, then conveyed through the two filters equipped with the appropriate filter medium. This filter medium consists of screen packs supported by breaker plates.
Double-piston continuous screen changer Benefits:
Eliminates line shutdown thus increasing production
Leakage-free process
Two breaker plates design increases filtration area compared to single breaker plate design
Reduced downtime & scrap
Reduced inlet pressure at extrusion die
Reduced temperature variations in the melt
Double-piston continuous screen changer Applications:
Blown film and cast film (Bubble pack, Medical, Food Wrap)
Sheet (Foam, Strapping, plastic cardboard)
Coating (Hot melt adhesive)
Pipe (Corrugated, Gas Pipe) and profile
Compounding (Master batch, filler)
Wire and cable extrusion
Tubing (Medical, Industrial, Irrigation)
Fibers (Monofilament)
Blow molding
Pelletizing (strands and underwater)
Recycling of most polymers
Double-piston continuous screen changer Features:
It can match with extruders of different design.
It is applicable to process with most polymers at high output.
Double-channel nonstop
screen changer
work alternatively, which can change the screen with minimum melt pressure fluctuating and production interrupting.
Two stages air vent for the hydraulic system to eliminate bubbling in polymer flow.
Superior sealing system completely eliminates polymer leakage.
External safety cover gives better appearance and safe protection.
It is equipped with circular, elongated or U- shaped screens, for enlarged filtration area.
©2015 Batte Mechanical Zhengzhou Co,.Ltd. All rights reserved. 
sales@battemachinery.com
Batte is a professional
screen changer manufacturer
, supplying
screen changer
, especially
screen changer for extrusion mould
.