Fax:+86 371-67993277
Tel: +86 371-67991755
Sales direct: +86 15838331071
E-mail:sales@battemachinery.com
http://www.screen-changer.org
24h services
extrusion t die
name:PVC board extrusion moulds,PVC thickness sheet extrusion t-die,extrusion t die
Usage for extrusion t die
1. Widely used in production all kinds of plastic sheet and plates, such as plasticPP,PS,PE,HIPS,PC,PMMA,ABS,PET,EVA,TPU,PETG,APET,LDPE,HDPE,PVC single and multi-layer sheet or plates etc
2. PE battery isolation board
3. PP + starch degradation sheet;
4. Micro foaming sheet, etc
Product thickness:0.15mm-12.0 mm
Application:Products are widely used in various packaging; stationery, printing, pharmaceutical, building, decoration, advertising, transportation, industrial applications and so on.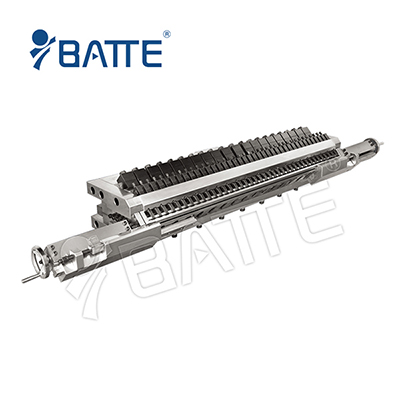 1.Sheet dies without restrictor bars are used for product thickness ranges below 2mm). dies with restrictor bars are used when product thicknesses range both below and above 2mm, or for highly degradable materials.
2.When processors require larger lip gaps, a common choice is a die with a sliding upper lip. A sliding upper lip provides travel of up to 12.5mm. This design is frequently used when product thickness is always above 2mm, and materials are thermally stable. Tiande lip adjusting system and system are commonly included.
3.Gain the convenience of rapid online lip gap control with fast open lip adjusting system. Prevent costly down-time for width changes with fast open system.
4.For dedicated co-extrusion applications with relatively expensive cap layers, the multi-manifold approach is commonly preferred over a single manifold die with a feedblock. Accurate flow channel design uses less of a cap layer, providing a rapid return on investment.
Heat Voltage:220V or on customer's request
Heating way:Heating bars made of stainless steel from Italy
Die material:2738 from Germany or P20 or others
Polishing:Lips and surface of flowing: 0.02-0.03(μm),
Other surfaces: 0.03-0.04(μm).
Chrome thickness:0.035-0.045mm
Surface hardness 60-70HR
Installation:On costumer's request
©2015 Batte Mechanical Zhengzhou Co,.Ltd. All rights reserved. 
sales@battemachinery.com
Batte is a professional
screen changer manufacturer
, supplying
screen changer
, especially
screen changer for extrusion mould
.