Fax:+86 371-67993277
Tel: +86 371-67991755
Sales direct: +86 15838331071
E-mail:sales@battemachinery.com
http://www.screen-changer.org
24h services
High Capacity Screen Changers
Batte's line of
High Capacity Screen Changers
is the result of 55 years of experience, innovation and development in filtration systems. These
large capacity screen changers
have outstanding features and benefits.
These Hydraulic Screen Changers are the standard of the industry representing a design proven in a wide variety of applications over a long period of time.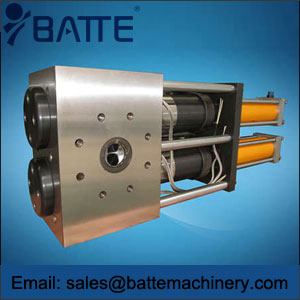 High Capacity Screen Changers Features:
Optimized productivity during screen changes
Breaker plate design maximizes polymer flow and minimizes pressure drop
Leak-free operation
Rugged single piece body minimize deflection
Toleranced machined parts
Easily adapts to both new and existing installations
Bi-fold guard design allows easy access to breaker plates and ensures safe operation
Pre-wired to junction box for easy operator interface
Steam or oil heating available in place of standard electrical heating
Suitable for explosion proof environments - optional
Extended Area Screen Changers:
Models SPC 1200EA and 1500EA
For high capacity polymer filtration up to 60,000lbs/hour and higher, Xaloy manufactures the SPC-1200EA and 1500EA. These models utilize cylindrical screens to achieve a significantly reduced pressure drop, resulting in higher throughputs and longer on-line time between
screen changer
.
High Capacity Screen Changers benefits:
Extended area provides longer filter life
Reduced screen change frequency
More stable process
Lower power consumption
Finer filters can be utilized
Rapid on-line filter changes
©2015 Batte Mechanical Zhengzhou Co,.Ltd. All rights reserved. 
sales@battemachinery.com
Batte is a professional
screen changer manufacturer
, supplying
screen changer
, especially
screen changer for extrusion mould
.