Fax:+86 371-67993277
Tel: +86 371-67991755
Sales direct: +86 15838331071
E-mail:sales@battemachinery.com
http://www.screen-changer.org
24h services
cast film extrusion die
Zhengzhou Batte Extrusion Mold Factory is a privately owned enterprise specialized in the manufacture of cast extrusion dies. After years of technical staff efforts, with practical experience and advanced CAD / CAM processing equipment, the successful development of a variety of single-layer, multi-layer coextrusion die.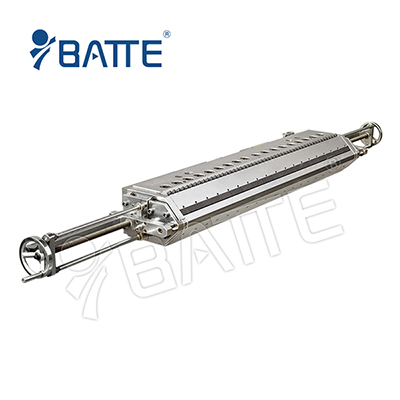 Hanger structure PVB casting die. Widely used in automotive, aviation, riot, construction and so on.
A continuous, unobstructed flow pattern is obtained at the lip of the die. Push-pull adjustment screws with a small spacing act on the pressure of the resin against the bounce of the metal, and the flexible die lip can be bent to adjust the die gap.
The surface of all hard chrome plated, fasteners using 12.9 high strength bolts, high quality, durable stainless steel heating rods partition heating control.
cast film extrusion die Production is stable, simple structure, easy to disassemble and clean.
Production of cast film extrusion die 0.02mm-0.4mm thick, precision products thickness error of 0.001mm, for the stationery film products, sanitary products film, adhesive film, plastic wrap, and so on.
cast film extrusion die Application: PVB and other raw materials.
cast film extrusion Die width 300mm-3600mm.
©2015 Batte Mechanical Zhengzhou Co,.Ltd. All rights reserved. 
sales@battemachinery.com
Batte is a professional
screen changer manufacturer
, supplying
screen changer
, especially
screen changer for extrusion mould
.