Fax:+86 371-67993277
Tel: +86 371-67991755
Sales direct: +86 15838331071
E-mail:sales@battemachinery.com
http://www.screen-changer.org
24h services
Screen Changer For Recycling Machine
Plastic products as a new type of material, with light, waterproof, durable, mature production technology, the advantages of low cost, widely used in the world and showed a growing trend. Companies in the plastic pellet machine manufacturing and technology, and strive to innovation, focus on product design, in a short period of time to China's renewable resources equipment manufacturing on a vivid industrial design concept of counseling classes.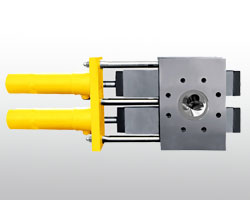 Screen Changer For Recycling Machine is based on the original head to make improvements in the process of production granulation can be non-stop machine can replace the filter, than the traditional head of high efficiency, no material, change the network more convenient and convenient Rugged, user self-reported size can be connected with different models.
Plate screen changer for recycling process suitable for most polymer extruded production like pipe, sheet, EPE, Eps oearl wool, xps extrudered sheet, PVB bursting disk. Improved products can meet drawbench of PET and other polyester products.
©2015 Batte Mechanical Zhengzhou Co,.Ltd. All rights reserved. 
sales@battemachinery.com
Batte is a professional
screen changer manufacturer
, supplying
screen changer
, especially
screen changer for extrusion mould
.