Fax:+86 371-67993277
Tel: +86 371-67991755
Sales direct: +86 15838331071
E-mail:sales@battemachinery.com
http://www.screen-changer.org
24h services
DBC Continuous Screen Changers
As a kind of filtration equipment with good features and benefits, DBC Continuous Screen Changers provides continuous polymer flow and consistent, repeatable process parameters during screen changes.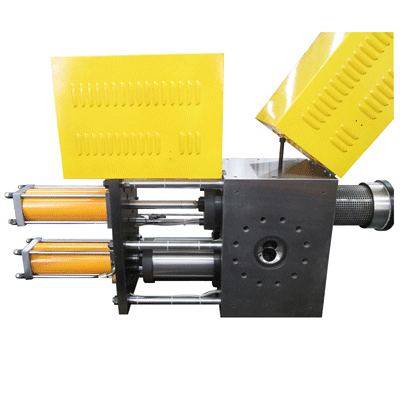 As polymer enters the screen changer the melt stream is divided equally and distributed through two rheologically optimized breaker plates. This method of filtration provides increased screen area as compared to single breaker plate screen changer designs and maintains a streamlined polymer flow path. Polymer merges back to a single melt stream as it exits the screen changer.
DBC Continuous Screen Changers Features:
Seal-less design
Automated control
Optimized flow channels
Fully guarded
Removable polymer tray
Integrated support system
Designed using FEA modeling
CE compliant
DBC Continuous Screen Changers Benefits:
Increased production
Reduced downtime & scrap
Leak-free operation
Increased filtration area
Reduced inlet pressures
Accurate, repeatable screen changes
Reduced maintenance
Simple operation
Safe operation
Operator friendly
©2015 Batte Mechanical Zhengzhou Co,.Ltd. All rights reserved. 
sales@battemachinery.com
Batte is a professional
screen changer manufacturer
, supplying
screen changer
, especially
screen changer for extrusion mould
.