Fax:+86 371-67993277
Tel: +86 371-67991755
Sales direct: +86 15838331071
E-mail:sales@battemachinery.com
http://www.screen-changer.org
24h services
Quick screen changer single board double station
Performance characteristics of A.
The single board double station quick screen changer is a cost-effective device with excellent performance. It can quickly switch the filter network in 0.4 seconds, change the net movement quickly, the material flow is small, the material is not leaked, the pressure is high, the filter area is large, the operation is simple, the net change is quick, the high anti wear, the high compression pressure, the high precision filter design, the effective area and the quality of the filter are improved. When the temperature is around 300 C, the service performance can be improved without changing the performance. In the plastic sheet, sheet, film, pipe, granulator, and other extrusion production line indispensable supporting equipment. Common configuration: main body of changer (including oil cylinder, heating pipe) + hydraulic station + electric control box (optional)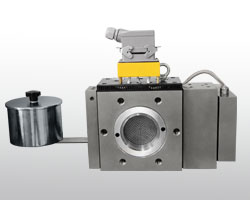 B.The single board double station quick screen changer application scope
The single plate double station quick changer is mainly used in the following production lines:
1. granulating production line (PP PE PET PA and other polymer materials)
2. thin film production line (PET CPE BOPP PE HDPE)
3. sheet and sheet production line (PP PET)
4. packing line (PP PET material)
5. production of hollow products
©2015 Batte Mechanical Zhengzhou Co,.Ltd. All rights reserved. 
sales@battemachinery.com
Batte is a professional
screen changer manufacturer
, supplying
screen changer
, especially
screen changer for extrusion mould
.