Fax:+86 371-67993277
Tel: +86 371-67991755
Sales direct: +86 15838331071
E-mail:sales@battemachinery.com
http://www.screen-changer.org
24h services
sheet extrusion flat die
The use of advanced polymer melt analyzer combined with Die Flow Software assures optimum design and performance of the die. sheet extrusion flat die systems are available as manual, or automatic,push only, or push and pull.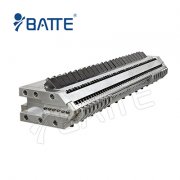 sheet extrusion flat die Application
The production line of sheet extrusion flat die can find its applications in household,wrap bag,decoration and so on.
1.Gain the convenience of rapid online lip gap control with fast open lip adjusting system. Prevent costly down-time for width changes with fast open system.
2.For dedicated co-extrusion applications with relatively expensive cap layers, the multi-manifold approach is commonly preferred over a single manifold die with a feedblock. Accurate flow channel design uses less of a cap layer, providing a rapid return on investment.
©2015 Batte Mechanical Zhengzhou Co,.Ltd. All rights reserved. 
sales@battemachinery.com
Batte is a professional
screen changer manufacturer
, supplying
screen changer
, especially
screen changer for extrusion mould
.